Music
The Morrighan
The Morrighan is the music of Cecily Fay and John X. They originally found success in the heyday of trance music, and had two hit records in the dance music scene: 'Remember – To the Millenium' released on Serious records http://www.youtube.com/watch?v=0Osz27Ly8WM
and 'Follow Me' released on Positiva records.
http://www.youtube.com/watch?v=lwoBBQeNIjU
Website: http://www.morrighan.com/
Subscribe to The Morrighan Youtube channel: The Morrighan
Warrioress - Flower of Steel now available
The Morrighan have written the score for Warrioress and in addition to the soundtrack, a new album with vocal versions of the songs from the film has been released and is now available to buy.
Also available from Amazon and all major digital download services.
The first two music videos from the album are now available to watch on Youtube.
The complete 'Warrioress' soundtrack coming soon!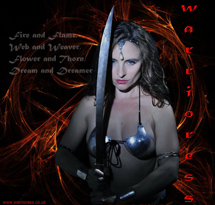 The complete soundtrack from Warrioress will be available to buy here. This will include the theme tune 'Warrioress' and the full length version of 'Bunker Attack'.
Due to be released in 2013.