Film, TV and Theatre News and Events
The first teaser for Babes With Blades:Flower Of Sarnia goes online 9th Dec 2014! Warrioress, Fearful Symmetry Productions first action feature film is now available from Amazon, Tesco and HMV. Visit Warrioress.co.uk for full details and more news updates.
Theatre
Production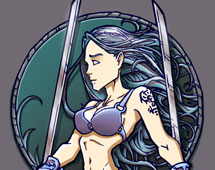 Dynamic female physicality through a new vision of martial arts.
The Babes With Blades – Real Action Heroines stage show is the only all female martial arts show. It features champion martial artists, Cecily Fay, Lauren Okadigbo, and Helen Bailey. Also featured is "So you think you can dance" finalist Lizzie Gough.
The show is a fusion of traditional martial arts, acrobatics, contemporary music and kick ass attitude!
To date they have performed at prestigious venues all over the world, including The Royal Opera House, Castle Ashby, Glastonbury festival, Thorpe Park,The Indian Derby in Mumbai, India, and a special performance for His Excellency Sultan Ahmed Bin Sulayem's in his Palace, Dubai.
---
Development
No productions are in development currently.